Our Church is dedicated to The Risen Christ. To express this, the centre church window in the sacristy depicts the Resurrection. This window reminds us of the Risen Presence of Christ – who accompanies us on our life's journey. The subtle colours in this church window remind us of the new life and hope that are promised to us by the Risen Christ.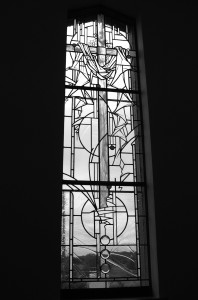 The theme of Baptism is depicted in another of the new church windows. The dove of the Holy Spirit is shown in the top of this window with three drops of water symbolising the Trinity.
The cleansing waters of Baptism flow from the cross. They are coloured blue for faith, wisdom, loyalty and truth, and green for life, growth and triumph over death.
The number eight symbolises regeneration and is represented by the eight clean bevelled circles in the left hand side of the window.
The other circles represent "the faithful". They are cradled and protected by the water as they travel on their journey upwards, supported by the cross.
The flames, as well as symbolising the Holy Spirit, show that through Baptism we shall walk in the light.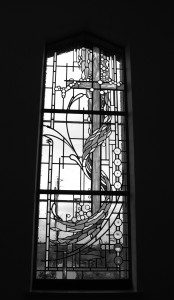 The theme of the Eucharist is depicted in the third church window. It is rich in symbolism also… The bread and wine of the Eucharist are symbolised by the wheat on the right and the grapes and vine around the cross on the left of the window.
The Trinity is represented by the three circles in the lower left hand corner.
The five smaller circles of the left beside the vine represent the five wounds of Christ.
The eleven clear bevelled circles on the right symbolise the eleven faithful disciples.